Main Topic: Venous Thromboembolism and CardioembolismCategory: Cancer Associated ThrombosisPB2137Thromboprophylaxis with Rivaroxaban in Patients with Malignancy and Central Venous Lines (TRIM-line): a Multi-centre Open-label Pilot Randomized Controlled Trial
R. Ikesaka
1
, D. Siegal
2
, D. Witham
3
, C. Webb
4
, M. Carrier
5
1
St. Joseph's Healthcare Hamilton, Hematology, Hamilton, Canada,
2
McMaster University/Thrombosis and Atherosclerosis Research Institute, Medicine, Hamilton, Canada,
3
Ottawa Hospital Research Institute, Medicine, Ottawa, Canada,
4
McMaster University, Medicine, Hamilton, Canada,
5
Ottawa Hospital Research Institute, Medicine/Hematology, Ottawa, Canada
Background:
Upper extremity deep vein thrombosis affects 2-13% of cancer patients with indwelling central venous catheters (CVC) which are commonly used to administer chemotherapy and supportive treatments. While the AVERT and CASSINI trials showed that low-dose direct oral anticoagulants reduce venous thromboembolism (VTE) in high-risk cancer patients, patients with CVCs were under-represented in these studies. The role of thromboprophylaxis following CVC insertion is uncertain.
Aims:
To assess the feasibility of conducting a multicentre randomized controlled trial (RCT) to assess the safety and efficacy of low-dose rivaroxaban to prevent VTE in patients with active cancer and indwelling CVC.
Methods:
Multicentre open-label, pilot RCT conducted in 2 Canadian centres in patients with active cancer and insertion of a CVC within 72 hours. Patients were randomized 1:1 to rivaroxaban 10mg by mouth daily or standard of care (observation) for 90 days. The primary feasibility outcome was the number of participants recruited per centre per month. A sample size of 50 patients over approximately 6 months was estimated with an enrollment target of 4-6/month at the coordinating centre and 2/month at additional sites. Secondary outcomes included consent rates, loss to follow up and adherence to therapy defined as over 80% of study drug taken (NCT03506815).
Results:
Target enrolment of 50 patients was achieved in 6 months and 12 days. The enrolment rate was 7.5/month at the coordinating Ottawa Hospital site and 2.0/month for Juravinski Hospital site. Baseline characteristics are shown in Table 1. Clinical outcomes at 90 days are shown in Table 2. No patients were lost to follow up and the overall consent rate after screening was 33%.
Conclusions:
The pilot trial achieved its enrollment targets and supports that a large multicentre RCT is feasible in this area.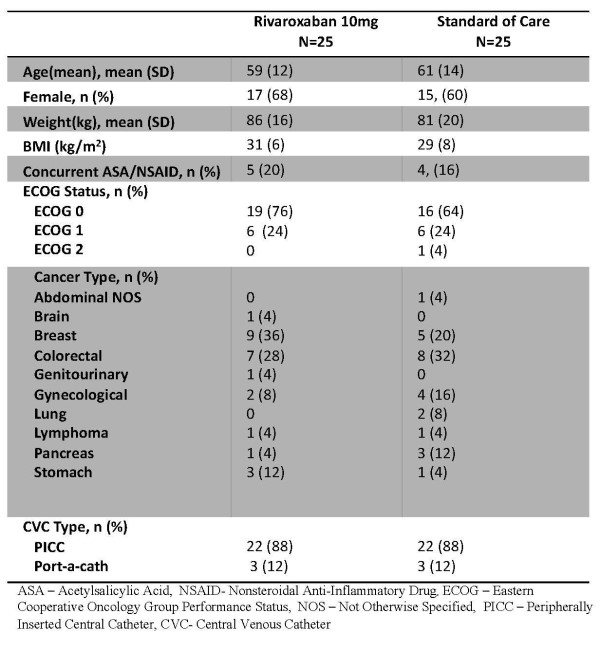 [Table 1. Baseline Characteristics]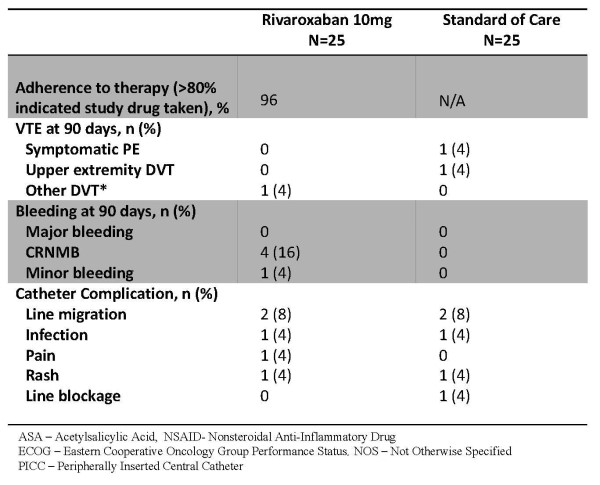 [Table 2. Clinical Outcomes at 90 Days]