LB 01.5

,Rivaroxaban for the Treatment of Acute Venous Thromboembolism in Children

C. Male1, A. Lensing2, D. Kubitza2, A. Chan3, G. Kenet4, P. Massicotte5, G. Young6, A.C. Molinari7, U. Nowak-Göttl8, M. Crowther9, M. Prins10, P. Monagle11, for the EINSTEIN-Jr. Phase 3 Investigators
Medical University of Vienna

,Main Topic: Arterial Thromboembolism
,Category: Anticoagulant Therapy

Background: Treatment of venous thromboembolism (VTE) in children is currently mostly based on adult data. Bodyweight-adjusted rivaroxaban regimens had previously been established for children (birth-17 years) to match the exposure range of young adults treated with rivaroxaban 20 mg once-daily.
Aims: To compare the efficacy and safety of rivaroxaban with standard anticoagulants (comparator) for treatment of acute VTE in children.
Methods: 500 children (birth-17 years) with acute VTE (lower extremity 33.0%, cerebral veins 23.4%, lungs 16.0%, upper extremity 11.6%, jugular vein 10.4%) were randomized (2:1 ratio) to receive open-label rivaroxaban (tablets or suspension) in bodyweight-adjusted 20-mg equivalent dose regimens or comparator. The main treatment period was 3 months (1 month in children < 2 years with catheter-related VTE). Symptomatic recurrent VTE and bleeding were centrally assessed unaware of treatment assignment. End of treatment repeat imaging was obtained. Pharmacokinetic (PK) and pharmacodynamic (PD) data were collected.
Results: Recurrent VTE occurred in 4/335 (1.2%) rivaroxaban-recipients and in 5/165 (3.0%) comparator-recipients (hazard ratio 0.40, 95% confidence interval, 0.11 to 1.41). Repeat imaging showed an improved effect of rivaroxaban on thrombotic burden as compared with comparator (table). Clinically relevant bleeding occurred in 10 children (3.0%; all nonmajor) with rivaroxaban and in 3 children (1.9%; two major; 1 nonmajor) with comparator. Absolute/relative efficacy and safety estimates of rivaroxaban and comparator were similar to those obtained in adults. PK parameters for rivaroxaban confirmed plasma levels in children equal to those achieved in adult VTE trials that showed efficacy of rivaroxaban (figure). PK and PD were closely correlated. Clinical and PK/PD results were similar for rivaroxaban tablets and suspension.
Conclusions: In children with VTE, treatment with bodyweight-adjusted rivaroxaban (tablets or suspension) resulted in low recurrence risk and reduced thrombotic burden without increased bleeding compared to standard anticoagulants. Our results are comparable to those obtained in adults with VTE treated with rivaroxaban.



Thrombotic burden on repeat imaging
Rivaroxaban (n=335)
Comparator (n=165)
Normalised
129 (38.5%)
43 (26.1%)
Improved
130 (38.8%)
75 (45.5%)
Uncertain
55 (16.4%)
28 (17.0%)
No relevant change
16 (4.8%)
13 (7.9%)
Deterioration
1 (0.3%)
1 (0.6%)
Symptomatic recurrent VTE
4 (1.2%)
5 (3.0%)
van Elteren test for comparison of ordered categories, p=0.009.
[Change in thrombotic burden on repeat imaging at the end of the main treatment period as compared to the index event.]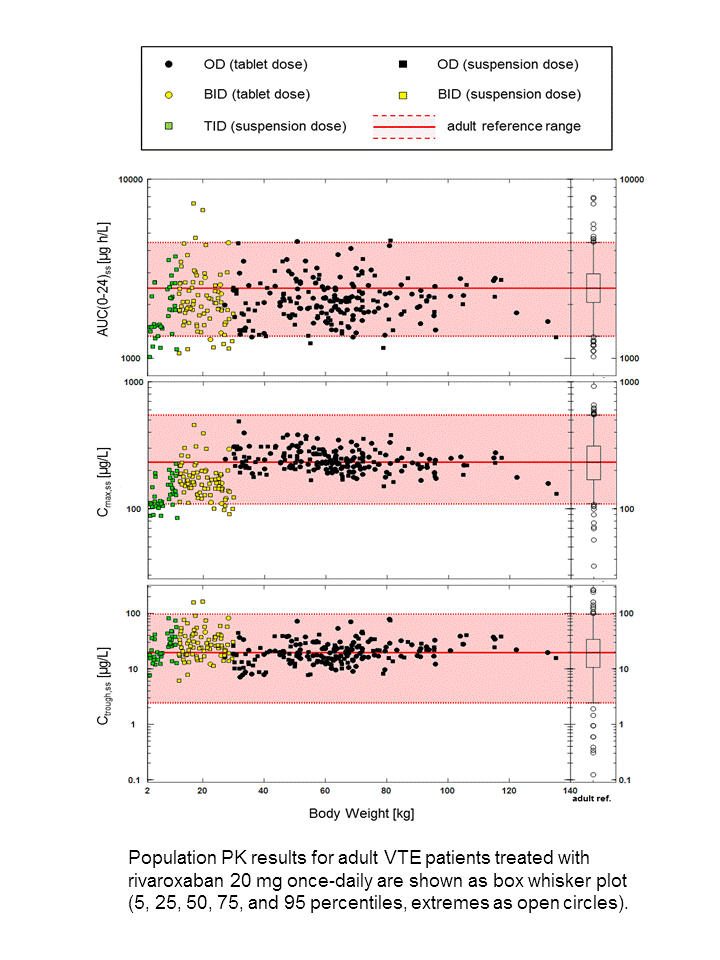 [Individual population PK parameters for rivaroxaban at steady state as a function of bodyweight.]