LB 01.4

,Magnetic Resonance Direct Thrombus Imaging Can Safely Rule Out Recurrent Ipsilateral Deep Vein Thrombosis of the Leg - The Theia study

L.F. van Dam1, C.E.A. Dronkers2, G. Gautam3, Å. Eckerbom3, W. Ghanima4, J. Gleditsch5, A. von Heijne3, H.M.A. Hofstee2, M.M.C. Hovens6, S. Kolman7, L.J.M. Kroft8, A.T.A. Mairuhu9, M. Nijkeuter10, M.A. van de Ree7, C.J. van Rooden11, R.E. Westerbeek12, J. Westerink10, E. Westerlund3, M.V. Huisman1, F.A. Klok1
Leiden University Medical Center

,Main Topic: Venous Thromboembolism
,Category: DOACs

Background: The diagnosis of recurrent ipsilateral deep vein thrombosis (DVT) of the leg is challenging because of frequent persistent intravascular abnormalities after previous DVT. Magnetic Resonance Direct Thrombus Imaging (MRDTI), a technique without intravenous contrast and with a 10-minute acquisition time, has been shown to reliably distinguish acute recurrent DVT from chronic DVT (Figure 1).
Aims: To evaluate the safety of ruling out recurrent ipsilateral DVT of the leg by normal MRDTI.
Methods: The Theia study is a multicentre, international diagnostic management study (NCT02262052) in patients with suspected acute recurrent ipsilateral DVT of the leg. Main exclusion criteria were concurrent suspected pulmonary embolism (PE) or previous ipsilateral DVT ≤6 months before presentation. The final treatment decision was based on the MRDTI result alone, which was performed within 24 hours of study inclusion. The primary endpoint was the 3-month incidence of venous thromboembolism (VTE) in patients with normal MRDTI at baseline. A VTE incidence with an upper limit of the 95% confidence interval (95%CI) below 6.6% was deemed safe. We also determined the interobserver agreement of MRDTI reading. All endpoints were adjudicated by an independent committee. The study was approved by all local IRBs. All patients provided written informed consent.
Results: Of 444 patients screened between May 2014 and March 2019, 305 (69%) were included (Figure 2). The baseline prevalence of recurrent DVT was 37%; thrombophlebitis was diagnosed in an additional 4.6%. The primary endpoint occurred in 2 of 121 (1.7% (95%CI 0.20-5.8)) patients with normal MRDTI who did not receive any form of (prophylactic) anticoagulation during follow-up; neither of these recurrences was fatal. The agreement between initial local reading and post-hoc central reading of the MRDTI images was excellent (kappa statistic 0.92).
Conclusions: Recurrent ipsilateral DVT can safely be ruled out by MRDTI alone, which can replace the often non-conclusive compression ultrasound in these patients.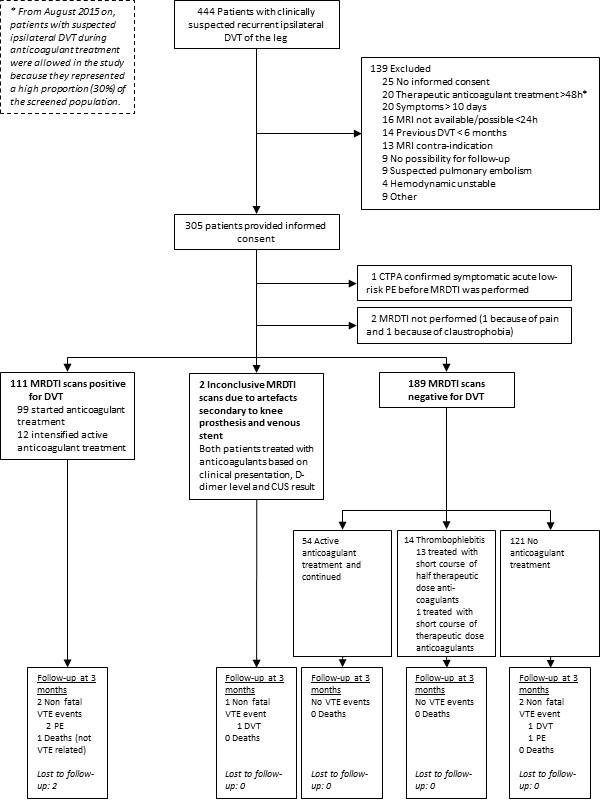 [Figure 2. Study flowchart]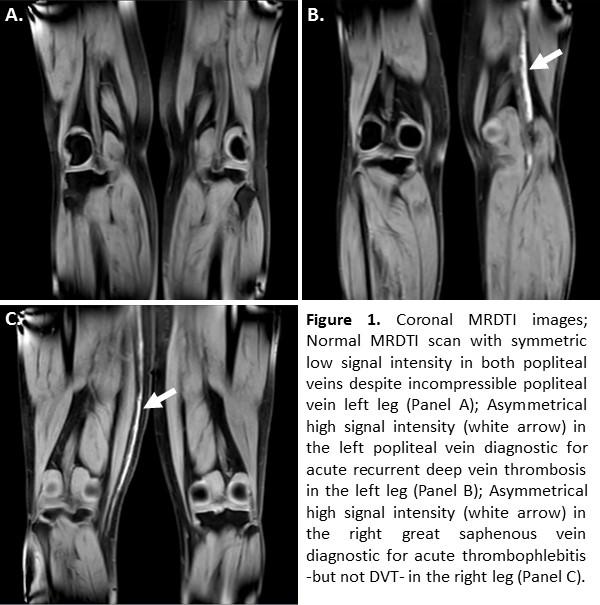 [Figure 1. Coronal MRDTI imgages]