LB 01.2

,First-in-human Evidence of Durable Therapeutic Efficacy and Safety of AAV Gene Therapy Over Three-years with Valoctocogene Roxaparvovec for Severe Haemophilia A (BMN 270-201 Study)

K.J. Pasi1, S. Rangarajan2, N. Mitchell3, W. Lester4, M. Laffan5, B. Madan6, E. Symington7, B. Kim3, X. Yang3, J. Quinn3, J. Henshaw3, C. Vettermann3, G.F. Pierce8, W.Y. Wong3
Royal London Haemophilia Centre Barts Health NHS Trust

,Main Topic: Hemophilia and Bleeding (including Transfusion)
,Category: Hemophilia - Clinical

Background: Gene therapy is increasingly viewed as a viable treatment option for hemophilia A (HA), using AAV mediated Factor VIII (FVIII) gene transfer. Interim Phase 1/2 data from valoctocogene roxaparvovec (AAV5-hFVIII-SQ) have shown promising results. Outstanding questions for all AAV gene therapies relate to clinical effectiveness and durability.
Aims: Assessment of long-term safety, efficacy, and durability of AAV5-hFVIII-SQ in a Phase 1/2 clinical study.
Methods: Adult male study participants with severe HA received a single intravenous dose of AAV5-hFVIII-SQ at 6×1013vg/kg (n=7) or 4×1013vg/kg (n=6).
Results: All study participants demonstrated clinically meaningful FVIII activity levels with reductions in bleeds and FVIII usage (Figure 1). Following withdrawal from prophylaxis, annualised bleeding rate (ABR) declined from pre-treatment mean by 96% at year three in 6×1013vg/kg participants, and 92% at year two in 4×1013vg/kg participants (Figure 2). FVIII levels reported by chromogenic assay correspond with the continued absence of target joints and target joint bleeds from years two through three. Expression levels over time are determined to decline as a function of both time post-administration and level of expression achieved, nearing a plateau of expression in year three. Accordant modelling projections conservatively estimate the persistence of bleeding control for at least eight years post-administration and longer if expression plateaus are maintained, as observed in prior AAV gene therapy studies (Figure 1). The safety profile of valoctocogene roxaparvovec remains favourable and unchanged, with no inhibitor development or ALT elevations beyond year one. Detailed durability, safety, and efficacy data will be shared at ISTH.
Conclusions: Gene transfer with valoctocogene roxaparvovec has resulted in substantial and sustained FVIII activity levels, clinically relevant reductions in self-reported bleeding episodes, and significant reductions in FVIII replacement infusions for up to three years post-dosing.

*This study was approved by a recognized medical ethics committee at each participating site. All participants provided informed consent.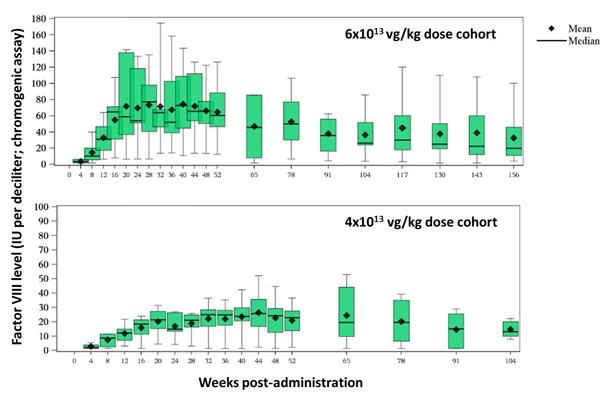 [Figure 1: Factor VIII levels by dose cohort over time]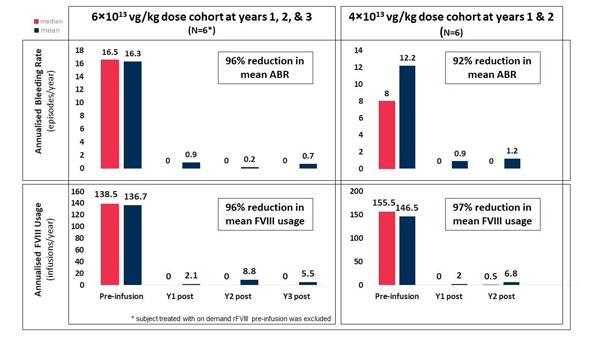 [Figure 2: Annualised bleeding rates and FVIII usage by dose cohort over time]