LB 01.1

,Subcutaneous Prophylaxis with the Anti-TFPI Monoclonal Antibody Concizumab in Hemophilia A and Hemophilia A/B with Inhibitors: Phase 2 Trial Results

J. Astermark1, P. Angchaisuksiri2, G. Benson3, G. Castaman4, P. Chowdary5, H. Eichler6, V. Jiménez-Yuste7, K. Kavakli8, T. Matsushita9, L. Hvitfeldt Poulsen10, J. Oldenburg11, A.D. Shapiro12, A. Wheeler13, S. Zupancic-Salek14, G. Young15
Lund University, Center for Thrombosis and Hemostasis

Main Topic: Hemophilia and Bleeding (including Transfusion)
,Category: Hemophilia - Clinical

Background: We present results from the concizumab explorer4 (NCT03196284; randomized) and explorer5 (NCT03196297; single-arm) phase 2 trials (main phase: 24 weeks).
Aims: To assess the safety, efficacy and immunogenicity of once-daily, subcutaneous concizumab prophylaxis in patients with hemophilia A/B with inhibitors (HAwI/HBwI) and hemophilia A without inhibitors (HA), and to establish a dose regimen for the phase 3 trials.
Methods: Informed consent and ethics committee approval were obtained. Thirty-six HA, nine HAwI and eight HBwI patients were exposed to concizumab. Patients received 0.15 mg/kg concizumab with potential dose escalation to 0.20 and 0.25 mg/kg. The number of adverse events (AEs) was evaluated, as well as coagulation-related parameters (D-dimer and prothrombin fragment 1+2 [F1+2]). Immunogenicity was assessed by the number of anti-drug antibodies (ADAs). Concizumab and free tissue factor pathway inhibitor (TFPI) plasma levels were measured by ELISA, and peak thrombin generation (TG) potential by a standardized assay.
Results: Clinical proof-of-concept (CPoC) for once-daily subcutaneous concizumab prophylaxis was established, there were no thromboembolic events, no AE-related withdrawals, no safety concerns with breakthrough-bleed treatment, and annualized bleeding rates after 24 weeks were estimated at 3.0−7.0, with all patients choosing to continue to the extension phase in both trials. Concizumab exposure, free TFPI reduction and TG potential were similar across all hemophilia patients (Fig.1A−C), and concizumab exposure was associated with normalized TG potential (Fig.1D). With increasing concizumab concentration, elevated F1+2 were detected (Fig.1E), and there was a tendency for elevated D-dimers (Fig.1F). Three patients in each trial had ADA-positive tests, with no apparent impact on any measured parameters.
Conclusions: Phase 2 trial results confirmed CPoC, with no unexpected safety signals and have guided selection of the phase 3 dosing regimen. Further development of concizumab as a prophylactic treatment for all hemophilia patients is supported, including HBwI patients who currently have no prophylactic options.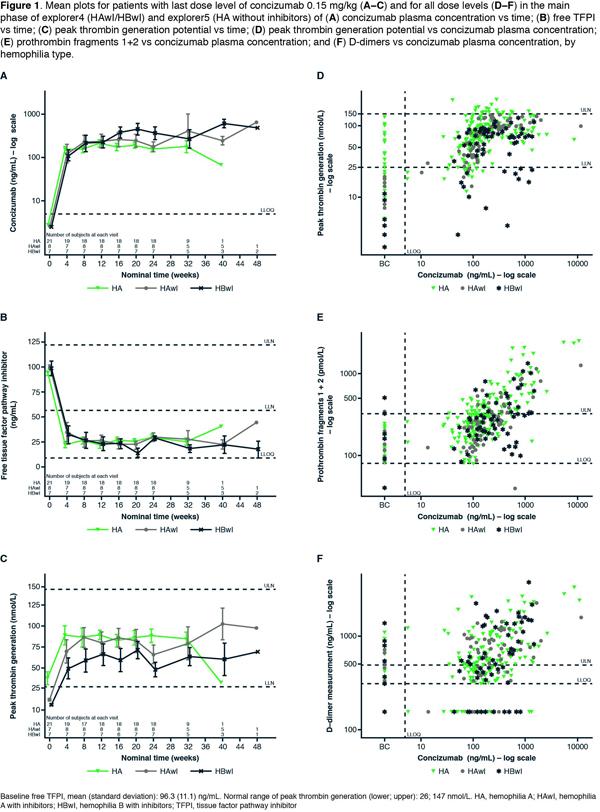 [Figure 1]