OC 75.2

Targeting Protein S Protects Mice with Hemophilia A from Acute and Chronic Hemartrosis

S. Calzavarini1,2, R. Prince1,2, L. Bologna1,2, M.D. Reina Caro1,2, C. Quarroz1,2, Y. Matsumura3, F. Saller4, A. Angelillo-Scherrer1,2
1Inselspital, Bern University Hospital, Department of Hematology and Central Hematology Laboratory, Bern, Switzerland, 2University of Bern, Department for BioMedical Research, Bern, Switzerland, 3Research Centre for Innovative Oncology, Division of Developmental Therapeutics, Tokyo, Japan, 4University of Paris, INSERM & UMR-S 1176, Paris, France

Main Topic: Hemophilia and Bleeding (including Transfusion)
Category: Hemophilia - Basic

Background: Hemarthrosis is a major hemophilia-related complication, responsible for a debilitating chronic arthropathy. Recently, we showed that targeting the anticoagulant protein S (PS) in hemophilic mice protects them from acute hemarthrosis (AH).
Aims: To test the efficacy of targeting PS in hemophilic mice and to evaluate the effect of PS targeting on inflammation using different hemarthrosis models.
Methods: AH and chronic hemarthrosis (CH) models were applied to F8-/-Pros1-/-and F8-/-Pros1+/+mice. For the AH model, mice were subjected to 1 single needle-induced joint injury and for the CH model, to 1 to 3 needle-induced joint injuries/week over 1 to 3 weeks. Inflammatory profile was studied in blood and knee lavage. Immunohistochemistry (IHC) analysis of injured joint was performed.
Results: F8-/-Pros1-/- mice did not develop CH, even after the third injury; in contrast, F8-/- Pros1+/+ mice developed CH (0.17±0.04 vs 0.87±0.6mm, p< 0.001, n=7) (Fig.). IHC analysis of joints after CH showed relevant intra-articular bleeding and insoluble fibrin in F8-/-Pros1+/+ but not in F8-/-Pros1-/- mice. However, preliminary data of safraning staining on injured joints showed comparable cartilage degradation in the two genotypes.After AH, F8-/-Pros1-/- and F8-/-Pros1+/+ mice had comparable circulating M1 (inflammatory) and M2 (patrolling) monocytes. In the knee lavage, the number of M1 and M2 monocytes was comparable in both genotypes after AH. The amount of monocyte chemotactic protein 1 (MCP-1) and IL-6, cytokines secreted by the inflamed synovium, was less abundant in knee lavage of F8-/-Pros1-/- mice than of F8-/-Pros1+/+ mice after AH (P< 0.005).
Conclusions: Targeting PS protects from AH and CH. Inflammatory profile after AH is consistant with the fact that F8-/-Pros1-/- mice, in contrary to F8-/-Pros1+/+ mice, did not develop AH. Further analysis to understand if the lack of PS affects also the inflammatory process that supports the chronic arthropathy is ongoing.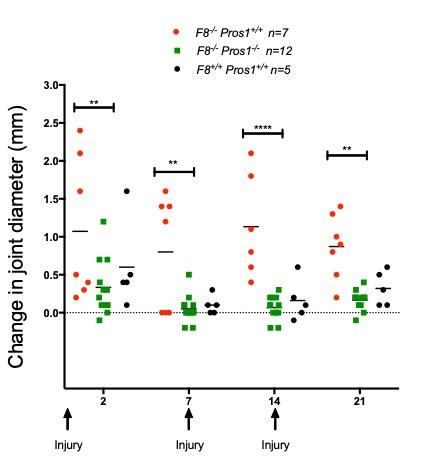 [Fig. 1 : Joint swelling according to different genotypes all over the study period]