OC 77.1

Blood Endothelial Progenitor Cell-on-a-Chip: A Disease and Patient-specific Cell Source for in vitro Vascular Tissue Engineered Platforms

T. Mathur1, T.W. Hein2, J.M. Flanagan3, A. Jain1
1Texas A&M University, Biomedical Engineering, College Station, United States, 2Texas A&M College of Medicine, Medical Physiology, Temple, United States, 3Texas Children's Cancer Center, Baylor College of Medicine, Section of Hematology-Oncology, Houston, United States

Main Topic: Immunothrombosis and Vascular Biology
Category: Blood Cells & Vessel Wall

Background: Vascular disorders account for some of the highest patient deaths. While animal models are too complex and non-human in many respects, contemporary in vitro techniques, such as, organ-on-chip, lack inclusion of an easily obtainable and phenotypically-similar human endothelial cell source. This limits our knowledge of disease mechanisms and hinders drug discovery.
Aims: In this study, we provide a proof-of-feasibility of utilizing Blood Outgrowth Endothelial Cells (BOECs) as a disease-specific primary cell source to analyze vascular inflammation and thrombosis in microfluidic conduits or vessel-on-a-chip.
Methods: The vessel-on-a-chip microchannels (Fig.1A) made of PDMS soft lithography are lined with autologous Blood Outgrowth Endothelial Cells (BOEC) derived from whole blood samples. Perfusion of whole human blood containing fluorescently labelled platelets and fibrin at arterial shear rates allows visualization of endothelial dysfunction. Results show mean±SEM. Statistical analysis is performed using Student's t-test in GraphPad Prism®.
Results: After a 24 hour culture under laminar flow, we observe formation of a confluent endothelium with intact junctions on all sides of the channels (Fig.1B). These blood-derived BOECs express pro-endothelial factors (Fig.1C), confirming their endothelial identity. Culturing SCD-BOECs derived from SCD patient blood in the vessel-on-chip followed by blood perfusion through these endothelialized microchannels yields significantly higher platelet adhesion and 'comet' shaped platelet aggregation patterns, only observed during endothelium activation (Fig.1 D-E). Contrastingly, commercial HUVECs and control BOECs prevent any platelet adhesion to the surface. This suggests that BOECs in SCD patients exhibit vascular activation as in vivo, allowing this device to model thromboinflammatory conditions in SCD. We further find that BOECs of diabetic pigs show increased ROS (Fig.1F) and lower proliferation in hyperglycemic conditions compared to normal endothelial cells (Fig.1G).
Conclusions: These results demonstrate the potential of autologous endothelial cells easily obtained from blood for creating disease and patient-specific vascular disease models, which may facilitate drug development.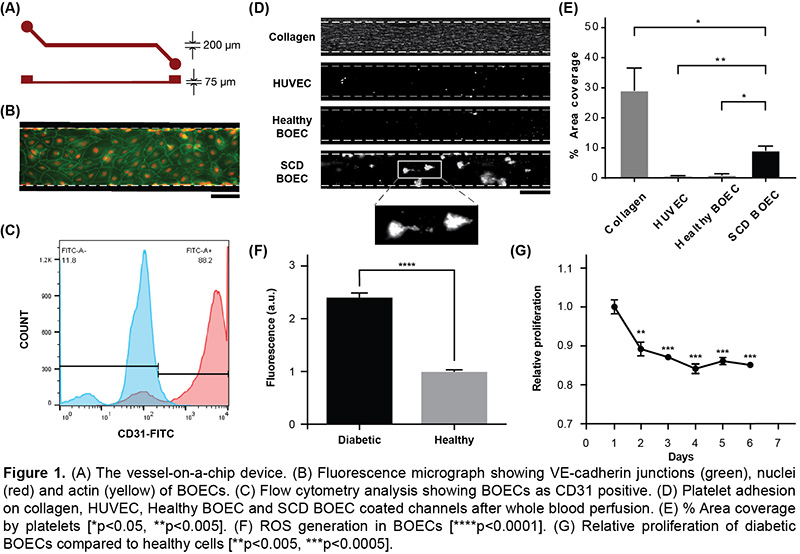 [Readouts from the vessel-on-a-chip device.]