OC 71.4

Factor XII-W268R, a Human Mutation Causing Autoinflammation, Accelerates Activation through Exposure of the Activation Loop

C.C. Clark1, Z.L.M. Hofman1, A. Nosairi1, W. Sanrattana1, J. Scheffel2, N.A. Mahnke2, K. Krause2, M. Maurer2, C.E. Hack3, S. de Maat1, C. Maas1
1University Medical Center Utrecht, Department of Clinical Chemistry and Haematology, Utrecht, the Netherlands, 2Charité - Universitätsmedizin Berlin, Department of Dermatology and Allergy, Berlin, Germany, 3University Medical Center University Utrecht, Laboratory for Translational Immunology, Utrecht, the Netherlands

Main Topic: Coagulation and Anticoagulation
Category: Contact Pathway

Background: Coagulation factor XII (FXII) drives production of the inflammatory peptide bradykinin. This causes acute tissue swelling in hereditary angioedema (HAE) that can result from mutations in FXII. We here describe a new mutation in FXII (W268R). Instead of HAE, this mutation causes cold-inducible urticarial-rash, headache, arthralgia, and fatigue (FACAS; FXII-associated cold autoinflammatory syndrome).
Aims: To unravel the disease mechanism of FXII-W268R.
Methods: We expressed wild type FXII (FXII-WT), mutants FXII-T309R (causes HAE), FXII-W268R, and other FXII variants in HEK293 freestyle cells. We analyzed cell culture supernatants, cell lysates, patient plasmas and purified proteins for FXII activation by western blotting, chromogenic assays and ELISA.
Results: All 4 FXII-W268R carriers were symptomatic. Their plasma contains high levels of FXIIa-C1-inhibitor (C1-INH) complex, plasma kallikrein-C1-INH complex and cleaved kininogen, unlike their healthy relatives. This suggests constitutive bradykinin production.
Recombinant FXII-W268R (but not FXII-WT or FXII-T309R) forms cleavage products that are present intracellularly, as well as in cell culture medium (Fig.1A). These fragments display enzymatic activity (Fig.1B).
Active-site incapacitated mutant FXII-W268R-S544A demonstrates that fragmentation is largely dependent on FXII auto-activation. In addition, intracellular inhibition of proprotein convertases significantly attenuates FXII-W268R activity, suggesting that these enzymes are involved in the intracellular processing of FXII-W268R. Purified FXII-W268R is more sensitive to activation by both plasma kallikrein (Fig.1C) and plasmin compared to FXII-WT or FXII-T309R. Furthermore, binding studies demonstrate that FXII-W268R exposes a plasminogen binding site that is cryptic in FXII-WT. Our findings suggest that the FXII-W268R mutation alters protein conformation, exposing its activation loop, which is normally concealed in FXII-WT (Fig.1D).
Conclusions: FXII-W268R accelerates activation both in the intra- and extracellular milieu. Continuous low-grade secretion of active FXII helps to explain the systemic autoinflammatory phenotype of FXII-W268R carriers.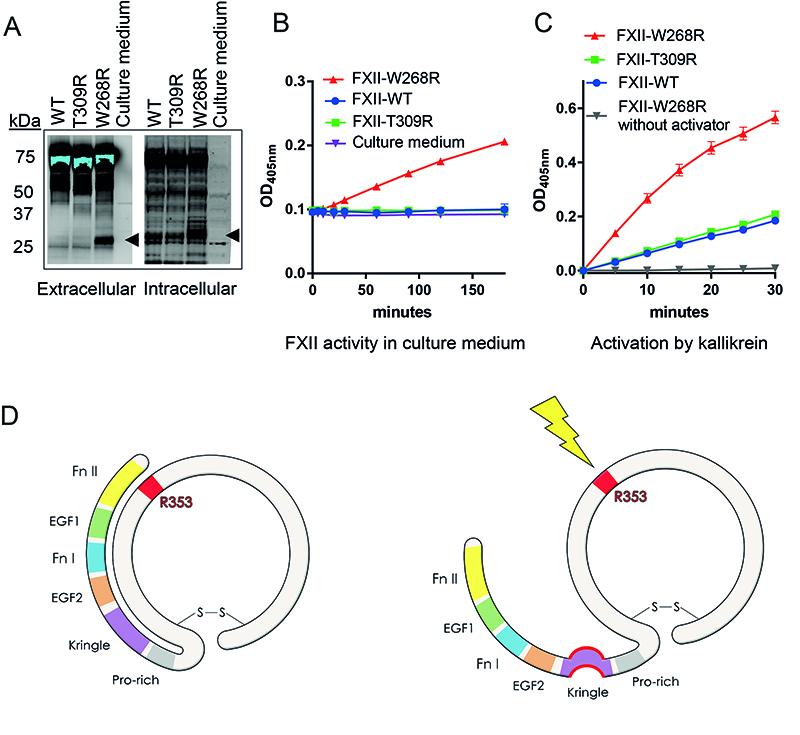 [Fig.1 Mutation W268R accelerates FXII activation. A) Western Blot B,C) Activity assays D) Overview.]