OC 61.2

Pregnancy Outcomes in Patients with Atypical Haemolytic Uraemic Syndrome

M. Scully1, G. Ardissino2, M.-P. Caby-Tosi3, I. Al-Dakkak3, F. Fakhouri4, B. Miller3, E. Rondeau5
1University College London, London, United Kingdom, 2Fondazione Arianna IRCCS Ca' Granda Ospedale Maggiore Policlinico, Milan, Italy, 3Alexion Pharmaceuticals, Inc., Boston, United States, 4CHU de Nantes, Nantes, France, 5APHP .6, Sorbonne Universite, Paris, France

Main Topic: Prothrombotic States
Category: HUS & Thrombotic Microangiopathies

Background: Pregnancy outcomes in patients with atypical haemolytic uraemic syndrome (aHUS) are not well reported.
Aims: Here, we present characteristics and outcomes for patients with aHUS who became pregnant while enrolled in the Global aHUS Registry.
Methods: The Global aHUS Registry (NCT01522183), initiated in April 2012, collects demographics, disease history, treatment and outcomes data for patients with aHUS. The current analysis includes patients from the Registry with evaluable pregnancy data supplemented with pharmacovigilance information; numbers of pregnancies, outcomes and treatment status were evaluated.
Results: As of December 2018, 39 pregnancies were recorded in 36 patients. In 3 cases, no outcomes were reported; two pregnancies were ongoing. Outcome data were available for 34 pregnancies: 24 with eculizumab exposure and 10 without (Table). Of eculizumab-exposed pregnancies, 17 patients were dosed according to recommendations in the prescribing information. There was a higher proportion of live births in non-exposed vs eculizumab-exposed patients (80% vs 58%, respectively) and a more elective terminations in eculizumab-exposed patients (33% vs 10%, respectively; reasons cited in Table footnote). Relapse of aHUS occurred in 9% of patients (1 exposed, 2 non-exposed) with known pregnancy outcomes. Five patients received dialysis during pregnancy, all of whom were eculizumab-exposed (including 1 patient with an aHUS relapse). No malformations or anomalies were reported at or within 3 months of birth. There was a higher proportion of complement mutations in eculizumab-exposed patients with known outcomes (63% vs 33%, respectively).
Conclusions: Real world data from the Global aHUS Registry showed no increase in poor outcomes in pregnant patients exposed to eculizumab with the proportion of miscarriages consistent with the general population (up to 20% of pregnancies1). Further evaluation of this aHUS subpopulation is ongoing.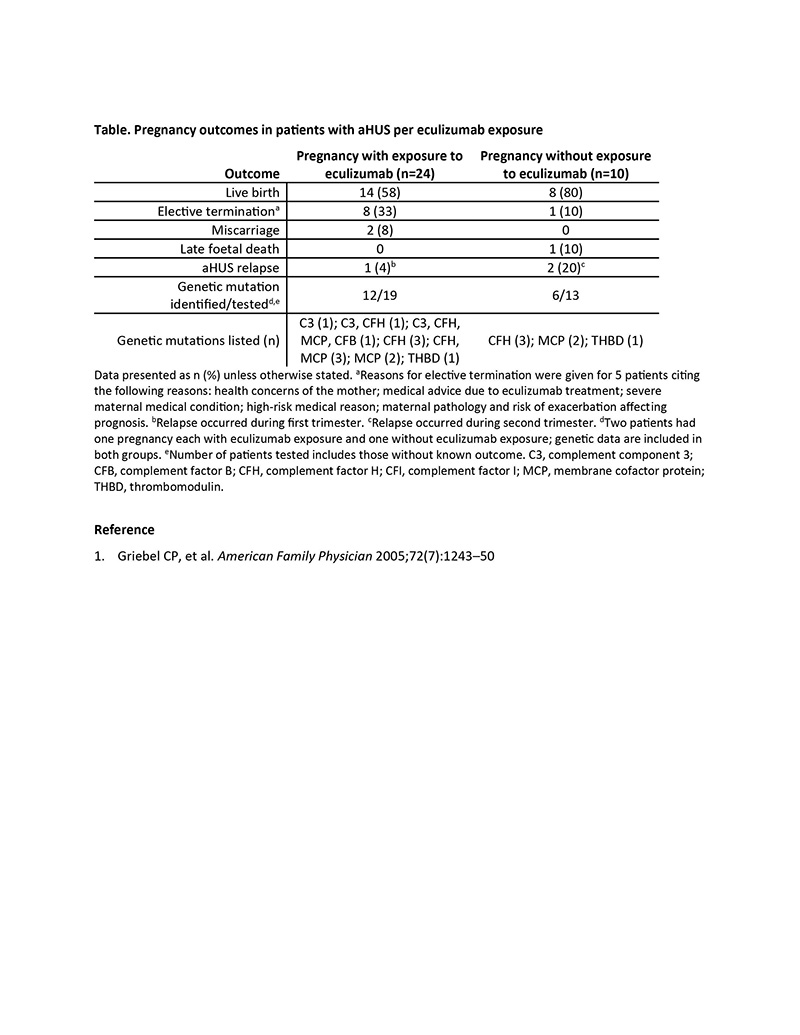 [Table]