OC 73.1

DOAC Plasma Concentrations in High Weight Patients: An Observational Study

A.C. Martin1, Z. Mahir2, M. Crowley2, T. Dowling2, K. Breen2, V. Collings2, B. Hunt2, G. Moore2, W. Thomas3, A.T. Cohen2
1INSERM UMRS 1140 - University Paris Descartes, Department of Cardiology, Paris, France, 2Guy's & St Thomas' NHS Foundation Trust, Department of Haematology, London, United Kingdom, 3Cambridge University Hospitals NHS Foundation Trust, Department of Haematology, Cambridge, United Kingdom

Main Topic: Venous Thromboembolism
Category: DOACs

Background: Obesity is associated with an increased risk of cardiovascular diseases including atrial fibrillation (AF) and venous thromboembolism (VTE), both treated with direct oral anticoagulants (DOACs). However, outcomes from trials and expected peak and trough drug levels were based on few individuals ≥115 kg. There is uncertainty whether weight affects DOAC levels.
Aims: To describe the relationship between DOAC levels and high body weight, and to compare DOAC levels in high weight patients with those in the ICSH recommendations1.
Methods: All patients in two centres in the UK, weighing ≥115kg receiving rivaroxaban or apixaban for AF or VTE and having DOAC levels were included. Peak or trough DOAC plasma concentrations were assessed and measured using specific chromogenic assays. They were expressed in mean or median (5th-95th percentiles) depending on ICSH values. T-test or Wilcoxon test were used for comparisons.
Results: 78 high weight patients with 84 samples were included. Age range: 23-78, 37% were women, 51% had AF, creatinine clearance range: 67-474 mL/min. Median weight was 138kg, and 78.9% had BMI ≥40kg/m2. Of 84 samples, 75 assessed 'full dose' i.e. apixaban 5mg bid and rivaroxaban 20mg od. There was no linear relationship between DOAC levels at peak or trough and body weight (p=0.28, p=0.98) or BMI.
In high weight patients, rivaroxaban concentrations at peak were widely distributed: 62.5% (10/16) of the samples in AF patients and 46% (14/25) in VTE patients were out the expected levels (figure), most values (19/24) were below. Conversely, all but one trough value for AF were within the ranges. Only few apixaban samples were available however all were within the expected levels.
Conclusions: No linear relationship existed between DOAC levels and body weight. However, half of the rivaroxaban peak levels measured in high weight patients remained below the range expected in general AF and VTE populations.
1-Gosselin. Thromb Haemost 2018.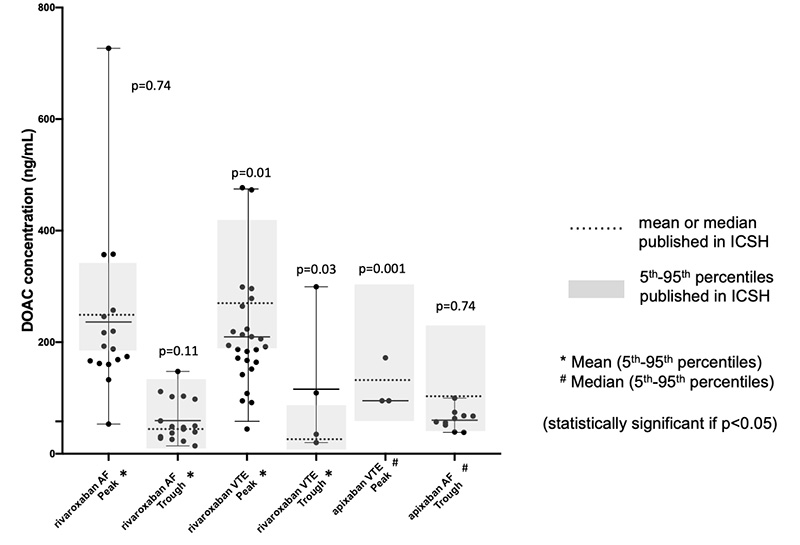 [DOAC concentrations in high weight patients and expected peak and trough levels]