OC 73.3

Use of Direct Oral Anticoagulants in Patients with Different Types of Hereditary Thrombophilia: A Retrospective Cohort Study

E. Campello1, L. Spiezia1, D. Tormene1, G. Camporese2, F. Dalla Valle1, C. Tonello2, P. Simioni1
1University of Padova, Department of Medicine, Padova, Italy, 2Padova University Hospital, Padova, Italy

Main Topic: Venous Thromboembolism
Category: Novel Anticoagulants

Background: Direct oral anticoagulants (DOACs) for venous thromboembolism (VTE) in patients with hereditary thrombophilia have been evaluated only in a post-hoc analysis and in some case reports.
Aims: This retrospective cohort study evaluated the efficacy and safety of DOACs for the acute treatment and secondary prevention of VTE in hereditary thrombophilia (natural anticoagulants deficiencies, FV Leiden, prothrombin G20210A, antithrombin resistance).
Methods: Consecutive adult patients with a first acute VTE between January 2014-2017 identified as thrombophilia carriers treated with DOACs for at least 3 months were enrolled. A cohort of thrombophilic patients treated for at least 3 months with conventional anticoagulants (heparin and warfarin) between January 2007-2015 acted as controls, matched for age, sex, ethnic origin and thrombophilia with cases. Endpoints were incidence rate (IR) of VTE recurrence, any bleeding complication, residual vein thrombosis (RVT) and post-thrombotic syndrome (PTS) in the two cohorts.
Results: 197 patients with hereditary thrombophilia and VTE treated with DOACs (mean age 53, F 45%, severe thrombophilia 42%) and 211 controls (mean age 56, F 47%, severe thrombophilia 36%) were considered. During anticoagulation we documented 3 (1.5%) VTE recurrences in cases and 9 (4.2%) in controls, with IR of 5.3 per 1000PY and 10.3 per 1000PY, respectively, and hazard ratio (HR) 0.66 [95%CI 0.20-2.20]. Additionally, we found 14 (7.1%) bleeding complications in cases and 9 (4.3%) in controls, IR 24.9 per 1000PY and 10.3 per 1000PY, respectively, HR 1.94 [95%CI 0.85-4.43] (Fig.1). After stopping anticoagulant treatment, we documented 6 (6%) VTE recurrences in cases and 22 (18%) in controls over the course of 12 months, HR 0.41 [0.19-0.86] (Fig.2). No significant differences in RVT and PTS were detected.
Conclusions: DOACs appear equally effective and safe as standard therapy to treat VTE in patients with hereditary thrombophilia. Additionally, DOACs showed less recurrent events in the 12 months following anticoagulation discontinuation.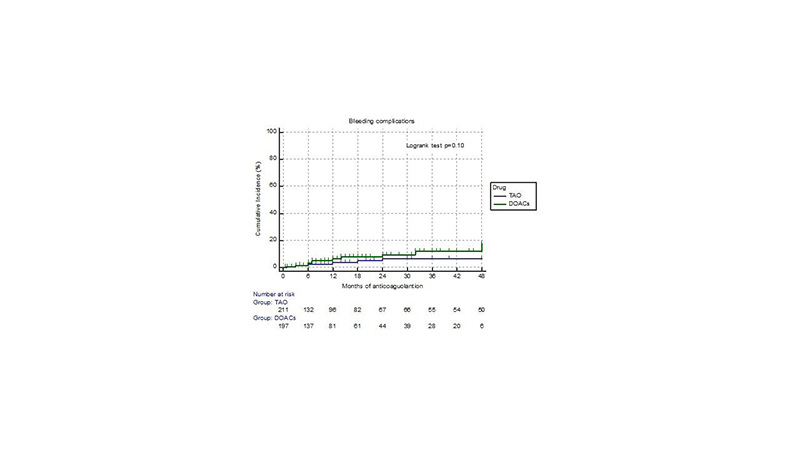 [Figure 1. Kaplan-Meier survival analysis of bleeding complications during anticoagulant treatments. ]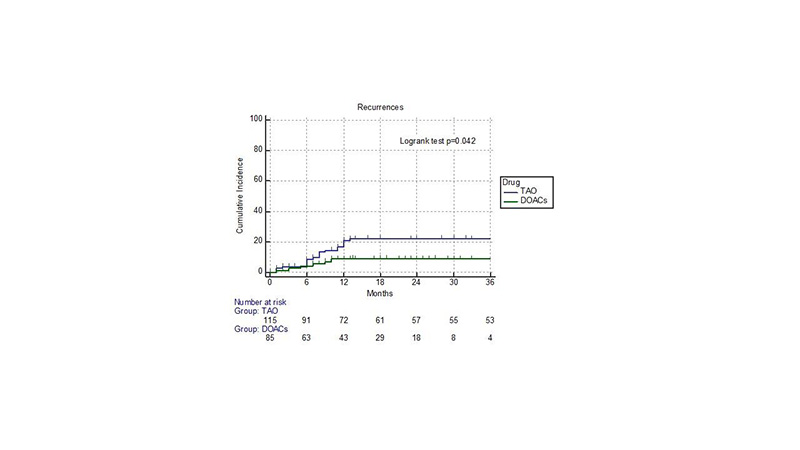 [Figure 2. Kaplan-Meier survival analysis of 12-months VTE recurrence after stopping anticoagulation.]