OC 70.2

Efficacy and Safety of BAY 94-9027 is Sustained for 5 Years: Outcomes in 36 Patients in the PROTECT VIII Extension Study

M. Reding1, L. Poulsen2, P.A. Holme3, S. Lalezari4, M. Wang5, C. Tarango6
1University of Minnesota Medical Center, Minneapolis, United States, 2Aarhus University Hospital, Haemophilia Centre, Aarhus, Denmark, 3Oslo University Hospital and Institute of Clinical Medicine, Oslo, Norway, 4Chaim Sheba Medical Centre, National Haemophilia Centre, Tel Hashomer, Israel, 5Bayer Corporation, Whippany, United States, 6Cincinnati Children's Hospital Medical Center, University of Cincinnati College of Medicine, Department of Pediatrics, Cincinnati, United States

Main Topic: Hemophilia and Bleeding (including Transfusion)
Category: Hemophilia - Clinical

Background: BAY 94-9027 is an extended-half-life, B-domain-deleted recombinant factor VIII (FVIII) that is site-specifically PEGylated with a 60-kDa (2×30-kDa) polyethylene glycol. The efficacy and safety of BAY 94-9027 as prophylactic and on-demand therapy for patients aged 12-65 years with severe hemophilia A were demonstrated in the phase II/III PROTECT VIII trial.
Aims: To explore efficacy and safety outcomes in patients from PROTECT VIII who had completed ≥5 years of prophylaxis as of 31 August 2018.
Methods: In PROTECT VIII, 114 prophylaxis patients received BAY 94-9027 25 IU/kg twice weekly (2×W) for a 10-week run-in period. Patients with ≤1 breakthrough bleed during this period were randomized to 45-60 IU/kg every 5 days or 60 IU/kg every 7 days, or assigned to 30-40 IU/kg 2×W for the 26-week study period. 107 prophylaxis patients entered an optional extension, continuing BAY 94-9027 on any regimen used in the main study. Prophylaxis patients who switched regimen after the first 7 days in the extension were analyzed in a combined variable frequency group. Annualized bleeding rate (ABR), joint ABR and safety outcomes were analyzed.
Results: At the cut-off date, 36 patients had completed 5 years of prophylactic treatment with BAY 94-9027 (median exposure days: 341). Median (quartile [Q1; Q3]) ABR was 1.2 (0.4; 2.1) (Figure 1), and joint ABR was 0.8 (0.3; 1.8). There were no study drug-related serious adverse events (Table 1). No patients had confirmed FVIII inhibitors (titer ≥0.6 Bethesda units).
Conclusions: The efficacy of BAY 94-9027 was maintained during the extension using infusion schedules best fitting the needs of individual patients. This long-term evidence supports the favorable risk-benefit profile of this PEGylated product. These data support the use of BAY 94-9027 as a long-term treatment option for patients with hemophilia A.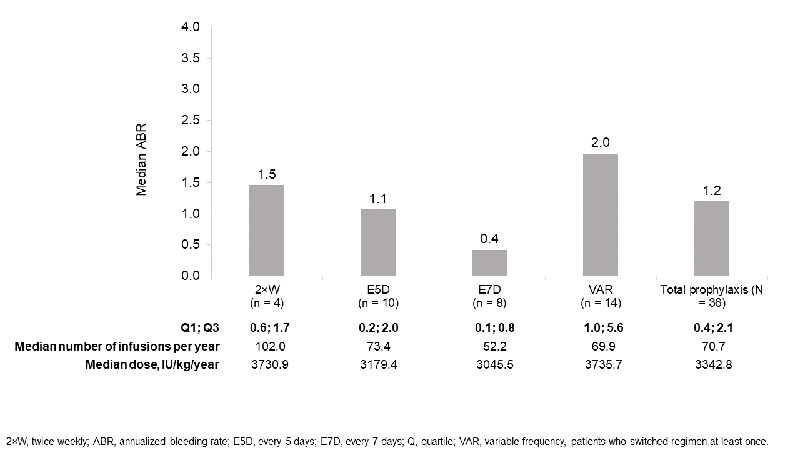 [Figure 1. ABR in prophylaxis patients with ≥5 years of treatment with BAY 94-9027]





Patients, n
2×W (n = 4)
E5D (n =10)
E7D (n = 8)
VAR (n = 14)
Total prophylaxis (N = 36)
Any AE
4
10
7
14
35
Any study drug-related AE*
0
0
2
3
5
Any serious AE (SAE)
2
4
3
6
15
Any study drug-related SAE
0
0
0
0
0
Any AE leading to discontinuation
0
0
0
0
0
*Identified as drug-related by investigator assessment. 2×W, twice weekly; E5D, every 5 days; E7D, every 7 days; VAR, variable frequency.
[Table 1. Summary of adverse events (AEs) in prophylaxis patients with ≥5 years of treatment with BAY 94-9027]