OC 73.2

Association of Body Weight with Efficacy and Safety of Apixaban and Rivaroxaban in Relation to Low Molecular Heparin and Vitamin K Antagonists in Acute Venous Thromboembolism

W. Wysokinski1, R. McBane1, D. Froehling1, D. Vlazny1, D. Bott-Kitslaar1, D. Houghton1, W. Kuczmik2, K. Sutkowska3, K. Bator3, D. Hodge4, L. Peterson1, A. Casanegra1
1Mayo Clinic Rochester, Rochester, United States, 2Medical University of Silesia, Katowice, Poland, 3University Medical School of Wroclaw, Wroclaw, Poland, 4Mayo Clinic Jacksonville, Jacksonville, United States

Main Topic: Venous Thromboembolism
Category: DOACs

Background: The use of fixed-dose of direct oral anticoagulant(s) (DOACs) in patients with extremes of body weight raises concern for their efficacy and safety.
Aims: To investigate the association of body weight and outcomes in patients treated for acute venous thromboembolism (VTE) with apixaban, rivaroxaban, low molecular weight heparin, or warfarin, VTE recurrence, major bleeding, clinically relevant non-major bleeding (CRNMB), and mortality rates were compared between patients with body weight < 60kg, 60-120kg, and > 120kg.
Methods: Consecutive patients seen at the Mayo Thrombophilia Clinic Registry (March 1, 2013-December 31, 2018) with acute VTE were followed prospectively by in person assessment, mailing a questionnaire, or by a scripted phone interview.
Results: Among 2133 patients with acute VTE, 184 had weight < 60kg, 1757 had weight 60-120kg, and 192 had weight >120kg. Patients with the weight < 60kg were more often women, had cancer, but less often pulmonary embolism. Obese patients were younger, more often men, with pulmonary embolism, but less often had cancer (Table 1). Patients with body weight < 60kg had a higher mortality (p=0.002) while patients with body weight >120kg had a lower mortality (p < 0.006) compared to 60-120kg weight group when treated with any anticoagulant. Patients without cancer and weight < 60kg showed higher rate of VTE recurrence (p=0.01).
Within the group of VTE patients receiving apixaban or rivaroxaban (Table 2) those with the weight < 60kg had a higher major bleeding rate (p=0.04) while patients with weight >120kg had better survival (p=0.05) compared to 60-120kg group. All other outcomes did not differ according to body weight groups.
Conclusions: Patients with weight >120kg have clinical outcome similar to 60-120kg group with the exception of better survival reflecting lower cancer prevalence. Patients with < 60kg of body weight treated with DOACs have a higher risk of major bleeding compared to 60-120kg group.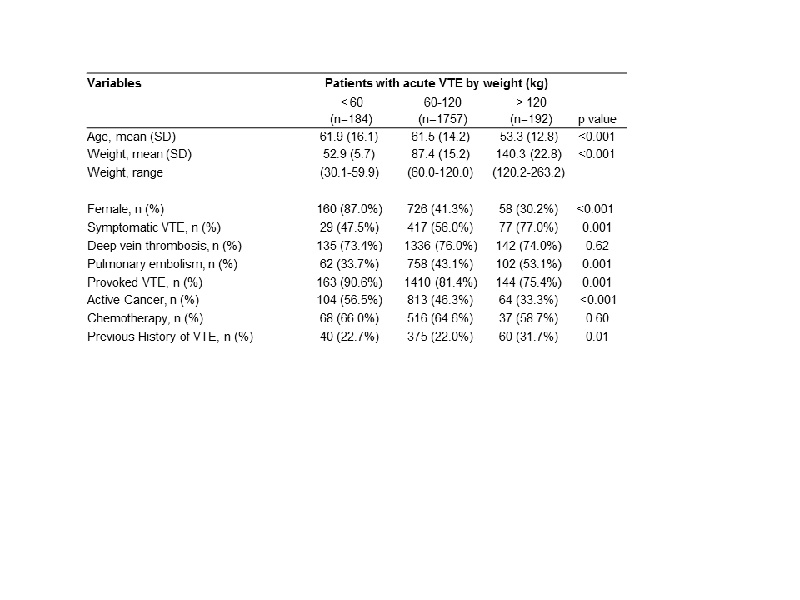 [Table 1. Patient demographics]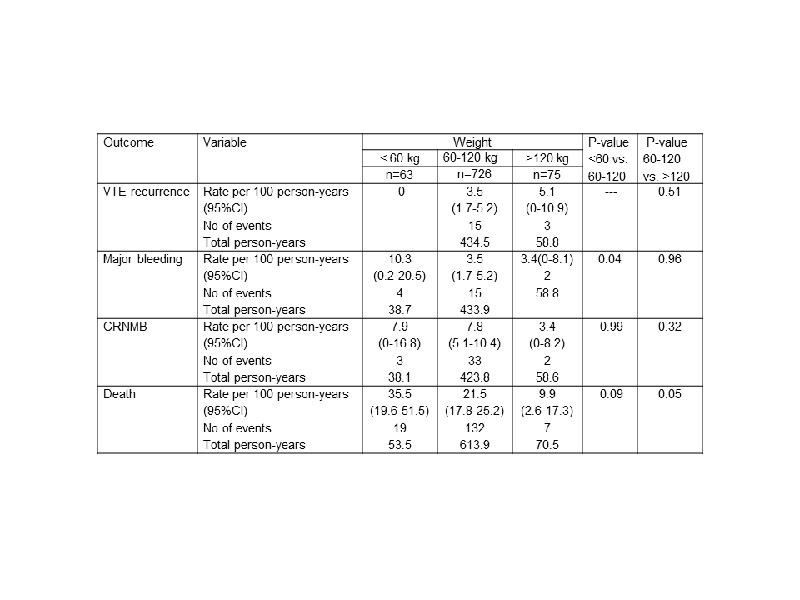 [Table 2. Clinical outcome of patients with weight based groups treated with either apixaban or rivar]