OC 60.2

Emicizumab Treatment is Efficacious and Well Tolerated Long Term in Persons with Haemophilia A (PwHA) with or without FVIII Inhibitors: Pooled Data from Four HAVEN Studies

M. Callaghan1, C. Negrier2, I. Paz-Priel3, S. Chebon4, M. Lehle4, J. Mahlangu5, G. Young6, T. Chang3, J. Xu3, R. Kruse-Jarres7, M.E. Mancuso8, M. Niggli4, P. Kuebler3, M. Shima9, V. Jimenez-Yuste10, E. Asikanius4, G. Levy3, S. Pipe11, J. Oldenburg12
1Children's Hospital of Michigan, Detroit, United States, 2Edouard Herriot University Hospital, Lyon, France, 3Genentech, Inc., South San Francisco, United States, 4F. Hoffmann-La Roche Ltd, Basel, Switzerland, 5University of the Witwatersrand and NHLS, Johannesburg, South Africa, 6Children's Hospital Los Angeles, University of Southern California Keck School of Medicine, Los Angeles, United States, 7Bloodworks Northwest, Seattle, United States, 8Angelo Bianchi Bonomi Haemophilia and Thrombosis Center, Fondazione IRCCS Ca' Granda, Ospedale Maggiore Policlinico, Milan, Italy, 9Nara Medical University Hospital, Kashihara, Japan, 10Hospital Universitario La Paz, Autonoma University, Madrid, Spain, 11University of Michigan, Ann Arbor, United States, 12University of Bonn, Bonn, Germany

Main Topic: Hemophilia and Bleeding (including Transfusion)
Category: Hemophilia - Clinical

Background: Emicizumab is a subcutaneously administered, bispecific monoclonal antibody that restores haemostasis in PwHA.
Aims: To present the long-term efficacy and safety of emicizumab in PwHA across the four phase III studies: HAVEN 1 (NCT02622321), 2 (NCT02795767), 3 (NCT02847637), and 4 (NCT03020160).
Methods: The studies enrolled paediatric (< 12 years old) and adolescent/adult (≥12 years old) PwHA, with or without FVIII inhibitors. Emicizumab prophylaxis was administered 1.5 mg/kg weekly, 3 mg/kg every 2 weeks, or 6 mg/kg every 4 weeks. All participants assigned to receive emicizumab were included, and data analysed by study or pooled across studies.
Results: Overall, 400 participants in HAVEN 1, 2, 3, and 4 (n=113, 88, 151, and 48, respectively) were included in the efficacy analysis, with a median efficacy period of 82.4 weeks (with 77% of participants treated for ≥74 weeks). The model-based annualized treated bleed rate (ABR; derived via negative binomial regression) was 1.5 (95% CI 1.20-1.84). The mean ABR decreased across consecutive 24-week treatment intervals (Table 1). Across studies, over 87% of participants had no treated joint bleeds in each interval from Week 25 and over 92% had no spontaneous bleeds (Figure 1). No death, thrombotic, or thrombotic microangiopathy events occurred in these trials beyond those reported in HAVEN 1 at the respective primary analysis (Oldenburg et al. NEJM, 2017). Emicizumab continued to be well tolerated, with no participants discontinuing due to adverse events beyond the five previously described (Oldenburg et al. NEJM, 2017; Young et al. ASH, 2018; Mahlangu et al. NEJM, 2018; Pipe et al. WFH 2018).
Conclusions: Emicizumab maintained low bleed rates and favourable safety and tolerability in PwHA of all ages, with or without FVIII inhibitors. Mean ABR decreased and the proportion of participants with zero joint or spontaneous bleeds increased across each treatment interval from Week 25.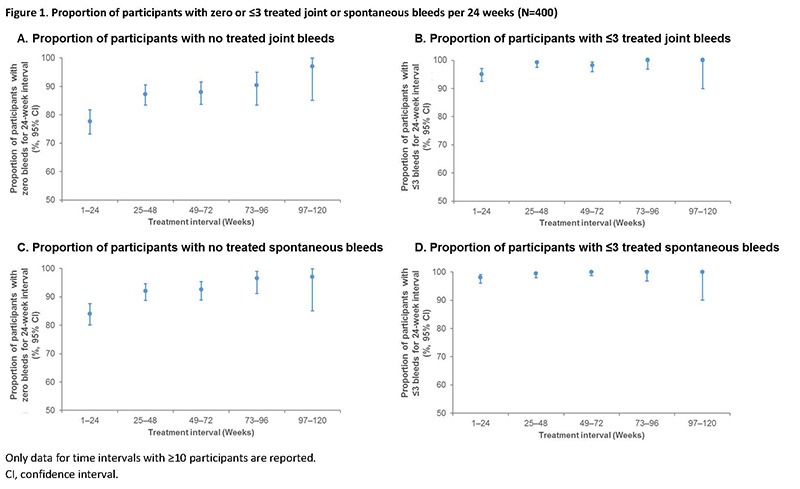 [Figure 1.]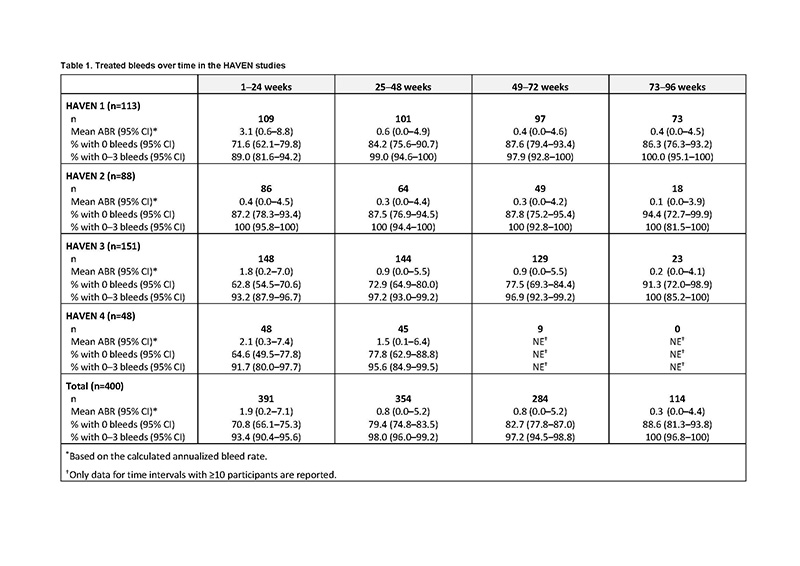 [Table 1.]