PB1517

Investigating the Role of Neutrophils and NETs in Staphylococcus aureus Endocarditis

S. Meyers1, L. Liesenborghs1, M. Lox1, S.F. De Meyer2, T. Vanassche1, P. Verhamme1, K. Martinod1
1KU Leuven, Center for Molecular and Vascular Biology, Leuven, Belgium, 2KU Leuven Campus Kulak, Laboratory for Thrombosis Research, Kortrijk, Belgium

Main Topic: Immunothrombosis and Vascular Biology
Category: Inflammation & Sepsis

Background: In infective endocarditis (IE), the interplay between coagulation and Staphylococcus aureus (S. aureus) is crucial. IE is characterized by a lesion, or an infected thrombus, containing bacteria, platelets and fibrin. Previously, we have shown that S. aureus adheres to cardiac valves via platelets and von Willebrand factor. However, the process of progression from initial bacterial adhesion to a complex vegetation, particularly how bacteria bypass the immune system and thrive in the host environment, remains unclear. Neutrophil extracellular traps (NETs) lie at this interface between host defense and thrombosis.
Aims: We aimed to determine the role of neutrophils and NETs in IE progression using a novel mouse model.
Methods: We intravenously injected mice with S. aureus and locally stimulated the endothelium with histamine, resulting in IE lesions that originate on inflamed heart valves. After three days we determined the development of IE on the aortic valves with Gram staining. We investigated the presence of NETs in 14 mice by immunostaining for citrullinated histone H3 (H3Cit), extracellular DNA, and myeloperoxidase. Of these 14 mice, 9 developed endocarditis. In a separate set of experiments, we investigated the role of neutrophils in IE development by injecting a neutrophil-depleting or control antibody 24h before surgery.
Results: Mice with endocarditis had significantly (P=0.005) more detectable H3Cit (9/9) than those without (1/5). More specifically, four mice had H3Cit+ neutrophils within thrombi, indicating early NETosis. Seven mice had an extracellular H3Cit staining pattern within the thrombus. These extracellular H3Cit-positive regions were associated with DNA and myeloperoxidase, indicating the presence of a network of NETs. When we depleted neutrophils, mice developed significantly more endocarditis (7/16 vs. 1/15, P=0.03).
Conclusions: Endocarditis lesions contained NETs or neutrophils undergoing NETosis, and neutrophil depletion led to increased IE incidence. Further investigating these two players in IE could potentially provide new strategies to combat this deadly disease.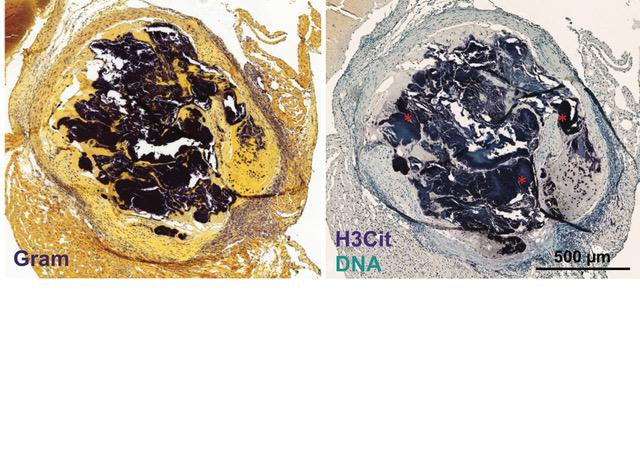 [NETs in an endocarditis lesion]