PB1364

Immunoadsorption for the Treatment of Acquired Haemophilia: New Observational Data, Systematic Review and Meta-analysis

M. Esteves Pereira1, C. Bocksrucker1, B. Mansouri Taleghani1, J.A. Kremer Hovinga Strebel1, M. Daskalakis1, M. Nagler2
1Inselspital, Bern University Hospital, and University of Bern, Department of Haematology and Central Haematology Laboratory, Bern, Switzerland, 2Inselspital, Bern University Hospital, and University of Bern, University Institute of Clinical Chemistry, Bern, Switzerland

Main Topic: Hemophilia and Bleeding (including Transfusion)
Category: Acquired Hemorrhagic Coagulation Disorders

Background: Treatment of patients with acquired haemophilia can be challenging due to life-threthening haemorrhages, a delayed response, or adverse effects of immunosuppressive agents. Immunoadsorption is suggested as adjunctive treatment to remove autoantibodies against factor VIII; the effectiveness in clinical practice is however unknown.
Aims: We aimed to study the effectiveness of immunoadsorption as adjunctive treatment in patients with acquired haemophilia.
Methods: We performed comprehensive literature searches in MEDLINE and EMBASE applying defined inclusion criteria and retrieving prespecified data. Clinical and laboratory data of all patients treated in our institution were additionally recorded. Methodological quality of observational studies was assessed using the Newcastle-Ottawa Scale (NOS). Proportions of factor VIII-recovery, inhibitor reduction, and death were pooled modeling a random-effects binominal distribution incorporating the Freeman-Tukey double arcsine transformation; 95% confidence intervals were computed using the score statistic.
Results: Literature search yielded 420 records, of which 12 studies describing 172 patients were finally included in analysis. Number of patients varied from 1 to 65, the age of patients ranged between 14 and 94. Treatment criteria were (a) failed response to immunosuppressive treatment, and/or (b) uncontrollable bleeding episodes, and/or (c) high inhibitor titre. Methodological quality according to NOS was moderate. Number of immunoadsorption cycles varied from 1 to 24. Within our institution, 11 patients with acquired haemophilia were treated since 2002; median age was 75 years (range 34, 86); median titre of factor VIII inhibitor was 18 bethesda units (range 3, 255). Meta-analysis revealed a factor VIII recovery in 80% of the patients (95% confidence interval 69% to 90%; Figure), reduction of factor VIII inhibitor in 90% (72%, 100%), and death in 13% (0%, 33%).
Conclusions: Pooled data of available observational studies suggest that immunoadsorption is a valuable adjunctive treatment in patients with acquired haemophilia and additional risk factors. Controlled studies or large registry data will further support this observation.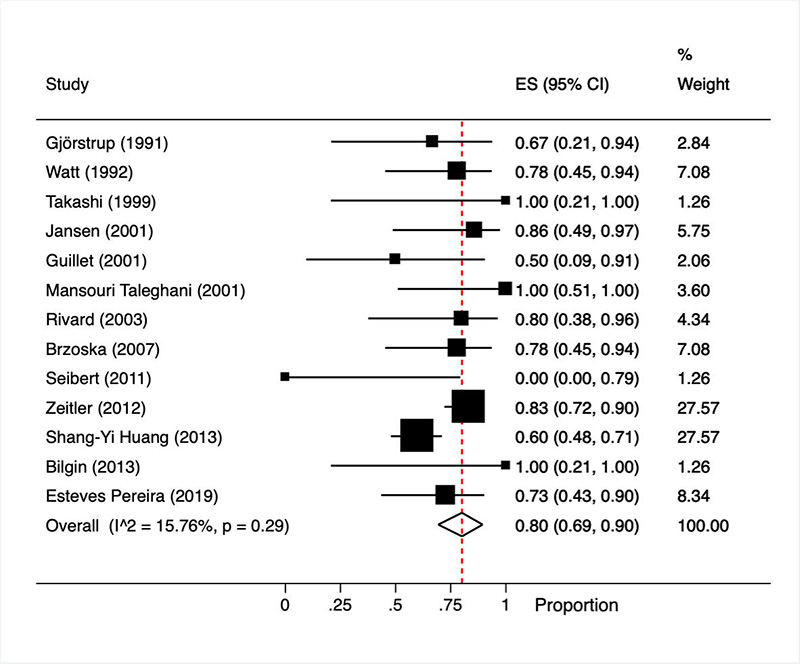 [Figure: Pooled recovery of factor VIII]