PB1271

To Describe D-Dimer Levels in Patients Receiving Direct Oral Anticoagulants with and without Suspected Recurrence of Venous Thromboembolism

P. Leung, S. Chunilal
Monash Medical Center, Haematology, Clayton, Australia

Main Topic: Diagnostics and OMICs
Category: Biomarkers of Thrombosis & Hemostasis

Background: D-dimer testing is useful in assessing patients with suspected venous thromboembolism (VTE). However, the accuracy of D-dimer in the diagnosis of recurrent VTE in patients receiving direct oral anticoagulants (DOACs) is unknown.
Aims: To describe D-dimer levels in patients receiving DOACs for VTE, with and without suspected recurrence of VTE.
Methods: A retrospective audit was performed of patients on DOAC therapy (specifically rivaroxaban and apixaban) for VTE. Patients with measureable anti Xa activity and a recorded D-dimer level were identified through the laboratory information system from April 2016 to February 2018 at Monash Medical Centre, Melbourne. D-dimer was tested with HemosIL D-dimer HS assay. Plasma anti-Xa levels were tested with the Stago anti-Xa kit using drug specific calibrators. All assays were performed on the ACL TOP 750 coagulometer. Patients with suspected recurrence where investigated with appropriate radiological testing.
Results: Thirty six patients were included, 13 of whom were investigated for suspected VTE recurrence. Patient demographics, DOAC and D-dimer levels are displayed in table 1. D-dimer was above 0.23mg/L ( cut-point for VTE) in 2/2 patients with confirmed recurrence and below 0.23mg/L in 8/9 those without recurrence (Sensitivity 100% (95% CI 34-100%) and Specificity 88% (95% CI 56-98%) Figure 1. In those without suspected recurrence 7/23 (30%) had a D-dimer above 0.23mg/L.
Conclusions: In patients with measureable anti-Xa level of DOACs, D-dimer levels for those with suspected recurrence was not universally suppressed and was positive in the 2 patients with confirmed recurrence. Similarly D-dimer levels were above 0.23mg/L in 30% of patients without suspected recurrence. These pilot data suggest D-dimer should be tested prospectively as a marker for recurrence even in the presence of measureable anti-Xa activity.



| | | | |
| --- | --- | --- | --- |
|   | Suspected VTE recurrence | No VTE recurrence | p-value |
| Number | 13 | 23 | - |
| Age, median (IQR) | 62.0 (37.0-72.5) | 56.0 (45.0-66.0) | NS |
| Female, n (%) | 9 (69.2) | 12 (52.1) | NS |
|   | Anti-Xa level (ng/ml) (median, IQR) | Anti-Xa level (ng/ml) (median, IQR) |   |
| Rivaroxaban | 169.27 (99.38 - 288.83) | 119.30 (42.10 - 218.70) | NS |
| Apixaban | 120.60 (69.40 - 234.00) | 78.70 (47.90 - 214.33) | NS |
|   | D-dimer (mg/L) (median, IQR) | D-dimer (mg/L) (median, IQR) |   |
| Rivaroxaban | 0.23 (0.14 - 1.19) | 0.11 (0.06 - 0.25) | NS |
| Apixaban | 0.12 (0.08 - 0.22) | 0.15 (0.08 - 0.46) | NS |
[Table 1. Patient demographics, anti-Xa and D-dimer levels for those with and without suspected VTE recurrence.]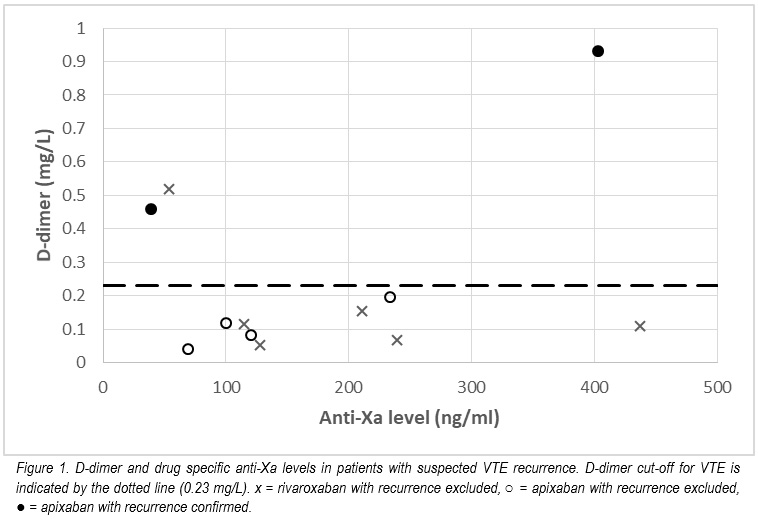 [Figure 1. ]