PB0698

Emicizumab Prophylaxis Improves Long-term Physical Health Scores in Persons with Haemophilia A (PwHA) with and without Inhibitors: Update from the HAVEN 3 and HAVEN 4 Studies

M. Skinner1, C. Negrier2, I. Paz-Priel3, S. Chebon4, V. Jiménez-Yuste5, M. Callaghan6, M. Lehle4, M. Niggli4, J. Mahlangu7, A. Shapiro8, M. Shima9, A. Campinha-Bacote3, G. Levy3, J. Oldenburg10, S. Pipe11
1Institute for Policy Advancement Ltd, Washington DC, United States, 2Edouard Herriot University Hospital, Lyon, France, 3Genentech Inc., South San Francisco, United States, 4F. Hoffmann-La Roche Ltd, Basel, Switzerland, 5La Paz University Hospital, Madrid, Spain, 6Children's Hospital of Michigan, Detroit, United States, 7University of the Witwatersrand and NHLS, Johannesburg, South Africa, 8Indiana Hemophilia and Thrombosis Center, Indianapolis, United States, 9Nara Medical University Hospital, Kashihara, Japan, 10University of Bonn, Bonn, Germany, 11University of Michigan, Ann Arbor, United States

Main Topic: Hemophilia and Bleeding (including Transfusion)
Category: Hemophilia - Clinical

Background: Haemophilia A with/without FVIII inhibitors has a major impact on HRQoL. The HAVEN 3 (NCT02847637; Mahlangu, NEJM 2018) and HAVEN 4 (NCT03020160; Pipe, WFH 2018) studies recently demonstrated efficacy and safety of subcutaneous emicizumab.
Aims: To assess the impact of prophylactic emicizumab on HRQoL of PwHA with/without FVIII inhibitors.
Methods: In HAVEN 3, PwHA ≥12 years without inhibitors previously receiving episodic (n=88) or prophylactic (n=63) FVIII were assigned to emicizumab 1.5 mg/kg once weekly or 3 mg/kg once every two weeks. In HAVEN 4, PwHA ≥12 years with/without inhibitors (n=41) received emicizumab 6 mg/kg once every four weeks. HRQoL was assessed by the Haem-A-QoL questionnaire, with 143 and 38 eligible respondents (aged ≥18 years) for HAVEN 3 and 4, respectively. Scores range from 0-100; lower scores reflect improvement; for the Physical Health Score (PHS) subscale, a ≥10-point change from baseline is considered clinically meaningful (Wyrwich, Haemophilia 2015).
Results: Questionnaire compliance rates were 94.9% in HAVEN 3 (up to Week 49) and 99.1% in HAVEN 4 (up to Week 61). Mean PHS scores improved after emicizumab initiation and were maintained throughout the follow-up period. Beyond Week 25, scores improved by ≥10 in over 50% and 65% of HAVEN 3 and 4 participants, respectively (Table 1). Mean (SD) total score at baseline was 31.5 (15.0) and 39.4 (17.9) and improved to 22.8 (15.1) and 23.0 (15.9) for HAVEN 3 and 4, respectively. At baseline, 76% (75/99) and 79% (22/29) of employed patients from HAVEN 3 and 4, respectively, reported no missed days of work in the prior 28 days. At Week 25, 91% (88/97) and 93% (25/27) of HAVEN 3 and 4 participants reported no missed workdays, respectively; this remained stable thereafter.
Conclusions: Clinically meaningful improvements were observed in Haem-A-QoL scores in PwHA receiving emicizumab, consistent with its demonstrated efficacy.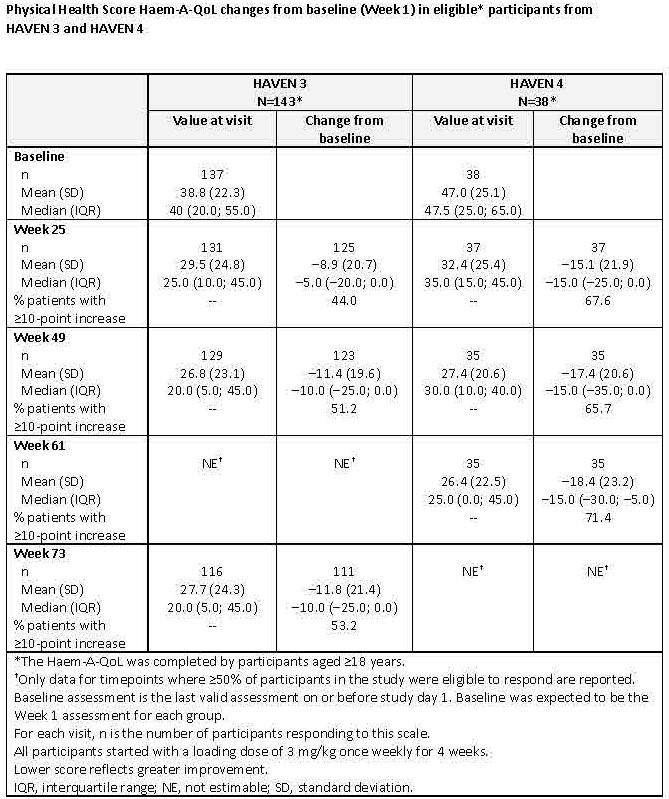 [Table 1]